Councils decry COVID waste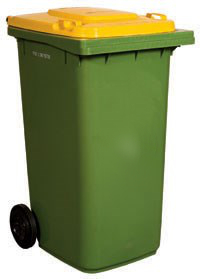 Victorian councils say COVID-19 lockdowns have massively increased the amount of household recycling and litter.
With the shift to takeaway dining, especially during last year, the Municipal Association of Victoria (MAV) says that "a lot of the messaging about avoiding waste and using reusable cups and containers has been forgotten".
Councils say there has been an increase in waste and recycling in kerbside bins and public place litter bins.
Concerningly, there has also been an increase in contamination within recycling bins and illegal dumping.
The council advocates say it has exacerbated issues first exposed by China's decision to severely restrict importation of recyclable materials in recent years.
"A step in the right direction will be the implementation of a Victoria-wide Container Deposit Schemes (CDS)," the MAV says.
"A CDS is one form of product stewardship that has been successfully implemented around the world and throughout Australia.
"They are popular because they make sense. They improve recycling behaviour, reduce litter, and provide recyclers with a clean stream of material.
"The State Government's draft plan ensures that the design of the scheme provides for a network of accessible and convenient collection points right across the state. Ease of access to collection points is regarded as the number one factor in the success of any CDS.
"We think the Victorian Government should also negotiate with their New South Wales and South Australian counterparts for equitable arrangements for border communities to access a CDS."
The MAV welcomed the Victorian Government's plan to set up a network operator that is independent of the beverage industry, and incentivised to collect as many containers as possible.
"This is because we want to see the scheme capture as many different types of containers as possible, including wine and spirit bottles – so that we finally move toward a system where the costs of recycling are borne by those producing and consuming the goods," the association said.
"Victoria has a great opportunity to learn from the experience of others and as we've said before, build a CDS that is the envy of the nation."