Vic. recycling piles high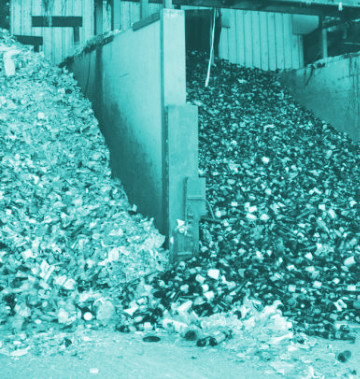 An estimated 4,600 tonnes of Victorian recyclables are being dumped in landfill this week.
Embattled processor SKM Recycling has stopped taking new material after the State Government branded it a "rogue operator" and refused to bail it out.
SKM Recycling consultant Rob Spence has blamed the business's troubles on the Environment Protection Authority (EPA), which banned glass processing at SKM's Coolaroo site in May.
This meant the company started shipping its unsorted recyclables to its Laverton North site, which was later banned from accepting more waste due to massive stockpiles.
"They can't take any more [recyclable materials] without breaching their permits with the EPA, because the system is fully loaded," Mr Spence said.
Mr Spence - a former head of the Municipal Association of Victoria – said SKM was being unfairly demonised.
"If there's a fault on their side it's that they've tried to keep the thing operating when the system was under stress internally because of various things," he said.
The notice was placed on SKM's glass recycling facility in May because it was a fire risk. It was also located next to an SKM processing facility that burned for days after fire broke out in July 2017, blanketing nearby suburbs in toxic smoke.
A total of 31 Victorian local governments have contracts with SKM. Some saw troubles coming and have made other arrangements, but Geelong, Whittlesea, Knox, Brimbank, Darebin, Melbourne, Nillumbik and Port Phillip are reportedly left sending recyclables directly to the tip.
Each tonne of recycling sent to the tip adds to the State Government's sustainability fund, collected through the Victorian Municipal and Industrial Landfill Levy.
The fund is currently worth over $400 million and growing.
Premier Daniel Andrews say his Government is still working out what to do with the extra money.
"That matter is being examined right now," Mr Andrews said.
"We're not looking at making a windfall out of this.
"This is not a choice that people have made. It's a very regrettable set of circumstances but I'm not going to have a situation where an operator like SKM gets a free pass on safety."
Opposition leader Michael O'Brien accused the Government of "profiting off their own recycling failure".