Boat boss details bleaching effect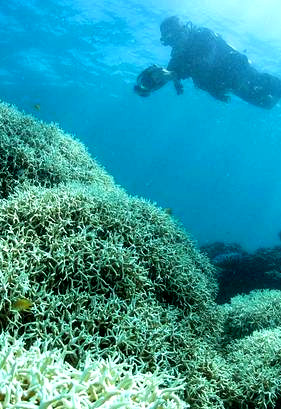 Senator Ian Macdonald has faced-off with a dive boat operator whose business is being harmed by coral bleaching.
Port Douglas dive operator John Edmondson has told a federal Senate inquiry that while "last-chance tourism" was driving some new visitors to see the Great Barrier Reef, there has been a lull in bookings following consecutive mass coral bleaching events.
Mr Edmondson said that despite a favourable exchange rate and security concerns in other countries with reef destinations, forward bookings for a day on the Reef were "definitely softer this year".
He said European reef visitors had frequently raised the issue of Australian government support for Adani's Carmichael coal mine as a sign the nation is "going in the wrong direction" on climate change – a major threat to the Reef.
"It's nearly the last chance [to see the Reef]," Edmondson said.
He said people still tend to have "a great day – but you can see there was a lot of dead coral."
Queensland Senator Ian Macdonald, a vocal opponent of anti-carbon measures, GetUp! And the Greens political movement, asked the dive operator if he deliberately took tourists "dead coral places".
"You can't avoid dead coral," Mr Edmondson said.
Mr Edmondson's business, Wavelength Reef Cruises, still takes about 22,000 people a year to see the Reef, employing dozens of people (including marine biology graduates) and brings in about $4.5 million in revenue a year.
The owner said it was "a fantastic business at the moment" but the "very poor trajectory" of the Reef had dampened plans for a $3m investment in a fourth boat.
"We've postponed our decision because with the current situation you just don't want to be too exposed," he said.
Senator Macdonald said he struggled to see why tourists were linking Adani to the state of the Reef.
Mr Edmondson said his clients were "educated", "aware of what's in the media" and understood the risk of climate change to coral reefs.
He asked; "If you come from the UK or France or Holland, windmills are a more common thing, renewable energy, much more electric cars – are we deserving of their money as custodians of the Reef?"
Mr Edmondson told Senator Macdonald that "politically I'm basically a Liberal voter who gets frustrated that, [on] the right wing of the centre right of politics, basically environmental issues are pushed over to the other side".
He said the broader public seemed confused about the reef amid "sensationalist" media coverage of the bleaching and an industry that was leaving a "real gap in advocacy for the Reef".
"The reality is that there's been a very dramatic change and a shifting in baseline in a lot of areas," Mr Edmondson said.
"You can still go out and have a fantastic day and the reef is still probably the best-managed reef in the world.
"But it's an expensive day. It's $250 [a person] for most boats to go out to the reef and people have got a very high expectation.
"To give them their value for money and give them a good product is getting harder and harder because it's harder to get the coral and show people what they expect to see."