Big farm funded as green bank faces demise

Print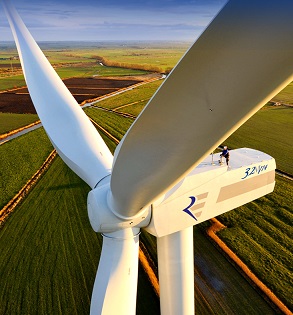 A massive wind farm in Victoria has been awarded $70 million by the Clean Energy Finance Corporation, in what may be the last such renewable energy pay-out for some time.
The Clean Energy Finance Corporation (CEFC) is in the cost-cutting crosshairs of the new Coalition federal government, which has labelled it a "giant green hedge fund" which should be closed.
The CEFC loaned the money to the Pacific Hydro energy company in order for them to build an immense 47kW wind project, financed on commercial terms along with several international and domestic banks. The $70 million will be used both to build the new farm and re-finance others in the area.
Luckily CEFC was able to approve the plan in June, just before the previous government was dissolved. It is reportedly among several such loans which have been granted approval but not yet announced. It is likely they will be the last to come from the CEFC before the Liberal National Party enforces its hardline stance against government investment in renewable energy.
Many in the government and industry sectors believe that the CEFC is a valid use of government funds; attempting to create an energy network which has as little negative impact as possible on the environment and will last longer than the limited supplies of coal and oil.
Insiders say the CEFC in integral in bringing together various banks and backers to make sure a project goes ahead. It has agreed to suspend all new investments while undertaking talks with the new government, hoping to find some common ground.
Coalition member Greg Hunt said late last week that the CEFC serves no purpose: "We have always opposed the Clean Energy Finance Corporation as it is $10 billion of borrowed taxpayers' money to invest in projects which the private sector deems too risky. It creates no additional renewable energy beyond the already existing 20 per cent Renewable Energy Target – so its $10 billion for no more additional renewable energy. We welcomed the decision by the CEFC Board that it would not approve any further investments during the caretaker period and we trust that continues."
PacHydro general manager Lane Crocket gave an example of the way the fund can lend credence to a project, and actually stimulate further investment, saying : "while an agreement has been in place with CEFC for some time, we have now achieved financial close with the entire banking consortium."
The funds extend beyond the 47mW farm to cover the final component of Pacific Hydro's whopping 179mW Portland Wind Energy project on the south-western coast of Victoria. Reports say the CEFC's involvement encouraged other commercial lenders to take part: "This enabled this transaction to proceed and the fourth stage of the Portland Wind Energy Project to be built," it said in a statement.