Sydney seahorse returns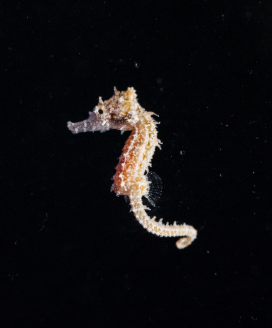 A group of rare seahorses has been released into Sydney harbour.
White's Seahorses – also known as the Sydney Seahorse – have been bred as part of a recovery project led by SEA LIFE Sydney Aquarium in collaboration with the NSW Department of Primary Industries (DPI) Fisheries and the University of Technology Sydney (UTS).
The purpose of the project was to successfully breed, raise, and release the White's Seahorses into the wild and monitor their success in helping reverse the decline of this iconic endangered species.
The juveniles now in the harbour have been carefully tagged for future monitoring. The seahorses were injected just under their skin with a coloured elastomer fish tag in a unique pattern, allowing them to be individually identified.
They were successfully released into their Sydney Harbour 'Seahorse Hotels' whereby it is hoped that the colony will help reverse the decline of this iconic endangered species.
Inspired by discarded crab traps, Seahorse Hotels were trialled in Port Stephens in 2018 and 2019 and were found to be very successful in attracting seahorses which led to mating and breeding.
The Seahorse Hotels start as artificial habitats that grow into natural habitats once they are placed in the marine environment. Over time they are grown over by corals, sponges, algae and encrusting animals that colonise these structures, providing protection from predators and a ready supply of food, making them the perfect home for seahorses.
Seahorse Hotels are designed to be completely biodegradable, so the artificial structures will slowly collapse over time under the weight of the marine growth leaving a new natural habitat behind.
The decline in the White's Seahorse is largely due to habitat loss and degradation - with much of their natural seagrass, sponge and soft coral habitats disappearing - meaning that providing new artificial habitats was a key element in the recovery program.
The breeding, release, and follow-up monitoring of these seahorses and the hotels they will live on will help shape and expand the long-term conservation and recovery of this species.