Bushfires to lift threatened numbers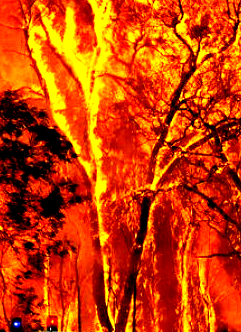 Experts expect the catastrophic 2019-2020 bushfire season to have increased the number of threatened native species in Australia.
University of Queensland-led research has found 21 threatened species – including the Kangaroo Island dunnart and Long-footed potoroo – are among 70 animals which have had much of their habitat affected by the blazes.
Researcher Michelle Ward says that about 97,000 square kilometres of vegetation in southern and eastern Australia burned, with that land considered habitat for at least 832 native animal species.
"Many of the species impacted by these fires were already declining in numbers because of drought, disease, habitat destruction and invasive species," Ms Ward said.
"Our research shows these mega-fires may have made the situation much worse by reducing population sizes, reducing food sources and rendering habitat unsuitable for many years."
The team found 49 species not currently listed as threatened, including Kate's leaf-tailed gecko (Saltuarius kateae) and the short-eared possum, now warrant assessment for listing under the Environment Protection and Biodiversity Conservation (EPBC) Act.
"If these EPBC assessments find that all 49 animals meet listing criteria, the number of threatened Australian terrestrial and freshwater animals would increase by 14 per cent," she said.
UQ's Professor James Watson said anthropogenic climate change was exacerbating fires in Australia.
"While fire is a crucial aspect of many ecosystems, we're witnessing climate change-induced drought combined with land use management practices that make forests more fire prone," Professor Watson said.
"We need to learn from these events as they are likely to happen again."
Ms Ward said Australia needs to urgently re-assess the extinction risk of fire-impacted species to better protect unburnt habitats.
"We must assist the recovery of populations in both burnt and unburnt areas," she said.
"This means strictly protecting important habitats, like unburnt refuges."
A recent review of the EPBC Act found it woefully inadequate.