First listed on: 26 May 2022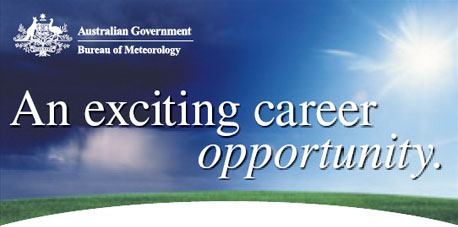 Senior Flood Operations Specialist

Australia is regularly affected by severe weather events. These events are growing in frequency and severity, leading to increased economic impact, vulnerability and potential magnitude of harm.

To address this, the Bureau of Meteorology is undertaking significant steps to deliver a more customer focussed, integrated and resilient national operation. This is an exciting direction for the Bureau which will change the way we deliver services to Australian communities.

The future operating model for the Bureau will create new career pathways to enhance our culture, to empower our people to learn and grow. As part of this transformation, we are introducing new roles that will assist the Bureau in delivering world class weather, climate and water products and services within the newly formed Community Services Group (CSG).

This group is comprised of Environmental Prediction Services (EPS), Decision Support Services (DSS) and National Production Services (NPS) which have been configured to enable scalable and resilient national services. The EPS program is responsible for the monitoring, analysis and reporting of hazardous conditions. During severe weather events, EPS will be deployed into operations under the direction of NPS to deliver specialised, hazard-based advice, warning and outlook services.

Operating with a national capability, this program will establish a world class centre of scientific expertise and practice. To achieve this, EPS has been configured into four predictive service units: Water, Severe Weather, Marine and Antarctic and Climate, each of which play a key role in the value chain of the Bureau's capability to deliver a suite of valuable products and services to the Australian community.

There are three functions within EPS Water — Flood Operations, Water Forecasting and Water Information. All functions will work together in an integrated manner to ensure the Bureau continues to develop its foundational water information capabilities and seamlessly delivers Water Services that ensure public safety and meet our obligations under the Water Act.

Responsibilities of EPS Water include leading the Bureau's rostered Water Operations which delivers flood and 7-day streamflow services, 365 days a year adopting a national risk-based approach; applying best practice approaches in water forecasting; enhancing our geospatial and water information capabilities and expertise in water data systems and tools including flood. All functions will have a strong focus on continuous improvement of all our products, processes, tools underpinned by a learning and development culture to ensure continued delivery of high-quality forecast, warning and information services for our customers.

The Senior Flood Operations Specialist will report to the Flood Operations Team Lead at their physical location (Brisbane, Sydney or Melbourne). The primary responsibility of this role is focussed on year-round operational flood monitoring for Australia with this shifting to forecasting and warning during flood events. This role will lead projects that drive continuous improvement of flood warning services aligned with a key national capability area. This may include the development and improvement of flood forecasting systems, forecasting techniques, processes, training and documentation that support the national Flood Warning Service. There will be an expectation that suitable candidates will be able to work across a number of the teams in EPS Water to develop operational resilience and to ensure diversity of work.

You will display a dedicated curiosity about the impacts of the evolving weather, flood, ocean and climate landscape. During severe weather events, you will be committed to supporting the Bureau and our customers outside the scope of standard working hours. This will involve leading flood operations or supporting the Bureau's Incident Management response.
How to Apply: For more information please visit the Bureau of Meteorology's careers website (http://www.bom.gov.au/careers).

Closing Date:

12 Jun 2022
Location:

VIC - Melbourne
Salary:

$100,075 - $112,725 per annum + 15.4% super
Work Type:

Full Time
Category:

Meteorology
Research/Scientific
Water