CSIRO Postdoctoral Fellowship in Tandem Perovskite Solar Cells - [Archived Advertisement]
First listed on: 24 September 2018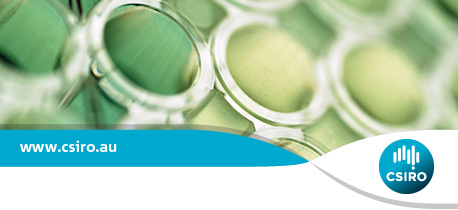 CSIRO Postdoctoral Fellowship in Tandem Perovskite Solar Cells
Do you have a physical chemistry, chemistry, physics, engineering or materials science background?

Work on Perovskite semiconductors in the emerging area of multi-junction or tandem solar cells

Join the Solar Energy Technologies group for this exciting postdoctoral fellowship
The Position:
Postdoctoral Fellows are appointed for up to three years and will work closely with a leading Research Scientist or Engineer in their respective field. They carry out innovative, impactful research of strategic importance to CSIRO with the possibility of novel and important scientific outcomes. They present the findings in appropriate publications and at conferences.
CSIRO Energy has established the National Solar Energy Centre (NSEC) in Newcastle to conduct world class research and development in solar processes, components and photovoltaics. Our Solar Energy Technologies Group now welcomes a self-motivated and innovative Postdoctoral Fellowfrom a physical chemistry, chemistry, physics, engineering or materials science background wanting to join an exciting, interdisciplinary team in the priority area of Perovskite semiconductors in the emerging area of multi-junction or tandem solar cells.
The Postdoctoral Fellow will explore deposition technique / reagent-material / film-thickness parameters and target optimisation of the top-cell in a tandem device by systematically investigating the conditions for depositing a conformal perovskite coating on a complementary semiconductor bottom-cell. Realisation of an effective tandem structure will require the Fellow to innovate in investigation, identification and mitigation of energetic loss mechanisms at the electrode interfaces. Careful design, screening and optimisation of conformal coatings will significantly improve the perovskite top-cell device performance and consequently the overall multi-junction cell.
Your duties will include:
Under the direction of senior research scientists, carry out innovative, impactful research of strategic importance to CSIRO that will, where possible, lead to novel and important scientific outcomes.

Plan and carry out research that contributes and expands on existing photovoltaic research within the Solar Energy Systems Group.

Design, implement and conduct research in the fabrication and characterisation of perovskite- silicon or related semiconductor photovoltaic devices.

Incorporate novel approaches to scientific investigations by adapting and/or developing original concepts and ideas for new, existing and further research.

Research and develop new device designs, fabrication processes and characterisation methods for the fundamental understanding of photovoltaic function as it applies to cell performance of perovskite semiconductors incorporated in tandem device architectures.
Location: Newcastle, NSW
Salary: $82k to $93k plus up to 15.4% superannuation
Tenure: Specified term of up to 3 years
Job ref: 58806
To be successful you will have:
A doctorate (or will shortly satisfy the requirements of a PhD) in a relevant discipline area, such as Chemistry, Physical Chemistry, Physics or Engineering relevant to Photovoltaics. Please note: To be eligible for this role you must have no more than 3 years of relevant postdoctoral experience.

High level written and oral communication skills with the ability to represent the research team effectively internally and externally, including at national and international conferences.

Detailed fundamental knowledge of physical chemistry and solid-state physics as it relates to photovoltaic function.

A sound understanding of the fundamental issues and present challenges relating to the operation of tandem photovoltaic devices and the development of new architectures for such photovoltaic technologies.

Enthusiasm for and experience with laboratory work including fabrication of devices and the physical, chemical and electrochemical measurement of new photovoltaic devices – particularly perovskite solar cells, perovskite-silicon tandem solar cells or other related thin-film technologies.

Relevant experience in solution processed thin-film photovoltaics, especially perovskite solar cells, such as fabrication and device function including relevant professional experience obtained through alternative career paths.
Before applying please view the full position details and selection criteria here: Position Details
About Us
We imagine. We collaborate. We innovate. At CSIRO, we do the extraordinary every day. We innovate for tomorrow and help improve today – for our customers, all Australians and the world. We do this by using science and technology to solve real issues. Diversity is the compass that navigates our innovation. We provide an inclusive workplace that respects, values and actively pursues the benefits of a diverse workforce.
We work flexibly at CSIRO, offering a range of options for how, when and where you work. Talk to us about how this role could be flexible for you. Find out more Balance
How to Apply: Please provide enough information relevant to the selection criteria for this position to enable the assessment panel to determine your suitability, and upload one document containing your CV/resume and cover letter.
Applications Close: 10:59pm AEDT, 31 October 2018.

Closing Date:

31 Oct 2018
Location:

NSW - Newcastle
Salary:

$82k to $93k plus up to 15.4% superannuation
Work Type:

Contract/Temp
Category:

Engineering
Fellowships
Renewable Energy
Research/Scientific