FSP Postdoctoral Fellowship in Environmental Genomics - [Archived Advertisement]
First listed on: 22 February 2018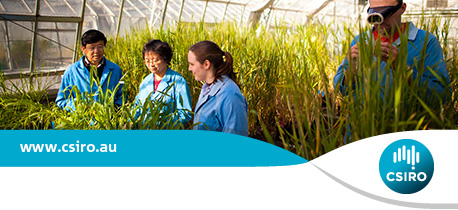 FSP Postdoctoral Fellowship in Environmental Genomics
Are you an up-and-coming scientist with a flair for innovation?

Do you have a great project idea where you can apply your passion for environmental genomics?

Join CSIRO's Environomics Future Science Platform (FSP) and be part of the next scientific revolution.
Have you got new and inventive ideas for how genomics can improve environmental science and management, or how new resources can be found in nature? We are seeking up-and-coming scientists with a flair for innovation, taking calculated scientific risks, and a drive to make a difference in the world.
Our natural environment is both beautiful and valuable. Tremendous effort is put into looking after it, but to meet modern demands this needs to be done smarter - based on more information, acquired more quickly and more accurately. Nature is also a source of innovation, and many opportunities exist to capitalise on this for human and environmental benefit.
Just as genomic tools have revolutionised bio-medicine, many opportunities exist to revolutionise environmental science through genomics. CSIRO's Environomics Future Science Platform is using genomics and bioinformatics to create the tools to support the environmental management of the future, and we are looking for bright sparks to join our team.
As a Postdoctoral Fellow you will work within the Environomics group where you will be mentored by a CSIRO Research scientists and participate collaboratively within the Environomics FSP research program. Also encouraged is collaboration with university, government, and industry partners.
In this role you will conceive, design and implement a research project whilst being mentored by CSIRO, university and/or industry scientists. Your project will complement the existing portfolio of Environomics projects, but will not simply apply existing knowhow to a new case study. Instead, it will develop a new way of doing things – either at the laboratory bench, or in analysis. It may involve re-purposing existing knowledge or tools from another discipline, or it may be something totally new that is generalizable. Importantly, you will have a vision of how your innovation will make a difference in environmental science. While it's expected that the toolkit utilised in this research will be genomics, or possibly other 'omics technologies, the application domain is unrestricted within environmental science. It may be in fisheries, biodiversity, biosecurity, bio-prospecting, all of these, or another domain altogether.
Applicants will be evaluated on the basis of their CV, responses to selection criteria, and a brief proposal indicating a research program they would like to pursue within the Environomics FSP. The Environomics FSP may select more than one successful candidate to support.
Location: Negotiable
Salary: $83K - $91K plus up to 15.4% superannuation
Tenure: Specified term of 3 years
Job reference: 54643
To be successful you will need:
A doctorate (or will shortly satisfy the requirements of a PhD) in a relevant discipline area, such as molecular biology, cell biology, molecular ecology, bioinformatics.
Please note: To be eligible for this role you must have no more than 3 years (or part-time equivalent) of relevant postdoctoral experience.

High level written and oral presentation skills.

A record of publications in quality, peer reviewed journals.

Demonstrated ability to design and implement novel molecular biological laboratory procedures, or to develop novel software or bioinformatics tools.

Proven ability to analyse complex molecular biological, population biological or ecological data sets.

A record of innovation and creativity in self-directed research.
Before you apply please view the full position details and selection criteria here: Position description document
The Commonwealth Scientific and Industrial Research Organisation (CSIRO)
We imagine. We collaborate. We innovate. At CSIRO, we do the extraordinary every day. We innovate for tomorrow and help improve today – for our customers, all Australians and the world. We do this by using science and technology to solve real issues. Diversity is the compass that navigates our innovation. We provide an inclusive workplace that respects, values and actively pursues the benefits of a diverse workforce.
We work flexibly at CSIRO, offering a range of options for how, when and where you work. Talk to us about how this role could be flexible for you.
Find out more here! Balance
The Environomics Future Science Platform is providing the technology to investigate and manage genetic resources hidden within Australia's vast biodiversity, to enhance crops and reveal processes that can make environmental management more effective.
Environomics, short for environmental genomics, is a new CSIRO science program exploring the limits of what is possible at the interface between genomics and environmental science. Environomics is bringing together expertise from across CSIRO and the university sector in molecular biology, ecology, and big data science.
The Environomics FSP is one of eight new Future Science Platforms supported by CSIRO. Capitalising on the genomic technology revolution, Environomics will build new ways to see beyond the landscape to its underlying genescape, to reveal and make use of genetic resources in nature, and to benefit from and care for biodiversity.
The National Research Collections of Australia: CSIRO is the custodian of a number of collections of animal and plant specimens that contribute to national and international biological knowledge. Together, they constitute a vast storehouse of information about Australia's biodiversity and underpin a significant part of the country's taxonomic, genetic, agricultural and ecological research - making these vital resources for conservation and the development of sustainable land and marine management systems.
How to apply: To apply for this position please upload one document only containing the following:
Your cover letter addressing selection criteria as defined in the position description document.

Your CV/resume that best demonstrates your ability to meet the requirements of the role.

Your project proposal as requested in the position description document.
Applications Close: 11:59pm AEDT, 18 March 2018

Closing Date:

18 Mar 2018
Location:

National
Salary:

$83K - $91K plus up to 15.4% superannuation
Work Type:

Contract/Temp
Category:

Biodiversity/Conservation
Ecology
Fellowships
Genetics/Genomics
Research/Scientific