Indigenous Cadetship - Agricultural/Laboratory Science - [Archived Advertisement]
First listed on: 18 June 2017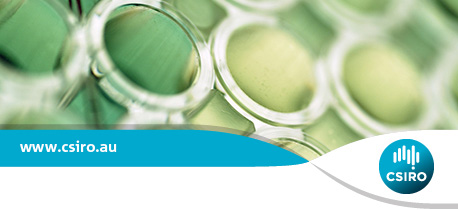 Indigenous Cadetship - Agricultural/Laboratory Science
Improve your professional employment prospects
Combine study with a paid work placement in your relevant field
Be a part of Australia's leading science and research organisation
We are seeking people of Aboriginal and/or Torres Strait Islander descent who are enrolled in a full-time undergraduate university course with a biology or agricultural science focus, to join our Cadetship program.
As an Indigenous Cadet, you will learn new skills in an area relevant to your study, receive work experience as part of a diverse team, gain self-confidence and develop leadership qualities. You will have a supportive network of staff around you including a mentor, to help you transition between study and the work environment.
Upon successful completion of the Cadetship, Cadets will be encouraged to pursue a career in science and apply for positions in CSIRO relevant to their qualification and skills.
Our cadetships offer a combination of full time study and work placements within CSIRO (usually completed during the long break at the end of each academic year) and provide:
A study allowance of $300 per week during periods of full-time study (40 weeks)
Financial assistance of $500 per semester to assist with study costs
12 weeks of paid work placement during each year of the cadetship
Payment of HECS fees by CSIRO on successful completion of study.
An opportunity exists for a cadet to join the Agriculture & Food Business Unit. In this role you will work as part of a diverse and inclusive team in the cereal genomics group and learn skills related to breeding improved cereal crops.
Location: Black Mountain, Canberra ACT
Duration: Up to 4 years (depending on current year of study)
Salary: Study allowance of $300 during periods of full-time study + 12 weeks of paid work placement during each year of the cadetship (starting at $570 per week before tax)
Reference No: 38201
Pre-Requisites/Eligibility
Indigenous Cadetships are open to students who are:
of Australian Aboriginal and/or Torres Strait Islander descent:
currently enrolled for full-time study in their first undergraduate degree course at an Australian university; and
registered with the Indigenous Cadetship Support Program: http://www.ics.employment.gov.au
How to Apply: For further information and details on how to apply, please see the Position Details document [link]
Interested candidates will be required to provide an academic transcript (or confirmation of enrolment if not yet started), Confirmation of Aboriginal &/or Torres Strait Islander descent as well as a resume.
About CSIRO: The Commonwealth Scientific and Industrial Research Organisation (CSIRO) is Australia's national science agency. At CSIRO we shape the future. We do this by using science to solve real issues. Our research makes a difference to industry, people and the planet. Find out more at www.csiro.au.
Apllications open until filled

Closing Date:

02 Aug 2017
Location:

ACT - Black Mountain
Salary:

Study allowance of $300 during periods of full-time study + 12 weeks of paid work placement during each year of the cadetship (starting at $570 per week before tax)
Work Type:

Contract/Temp
Category:

Agriculture/Agronomy
Flora/Fauna
Genetics/Genomics
PhD/Masters/Scholarships
Plant Biology/Crop Physiology
Research/Scientific
Soil/Plant Science