First listed on: 24 June 2022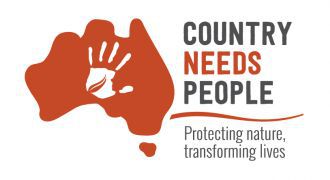 About Country Needs People
Country Needs People (CNP) is an independent, non-partisan organisation dedicated to supporting Indigenous land and sea management Australia wide through federal and state advocacy, policy development, research, and a variety of partner support activities. We are a newly independent organisation developed from over a decade's steady work with Indigenous land and sea management groups around Australia with a strong track record of positive impact across Australia and beyond. With a network of over 40 frontline Indigenous organisational partners and over 100,000 Australian supporters, Country Needs People works to celebrate and strengthen the success of Indigenous Australians working on country for the benefit of all Australians.
We are a small team, with an office in Canberra and staff and contractors working from Canberra and remotely from other places in Australia. We work closely and strategically with Indigenous partners, governments, and other stakeholders to enhance the quantity, quality and security of Indigenous led natural and cultural values land and sea management. We combine:
strategic, non-partisan advocacy to state and federal governments
communications campaigns to build a broad public support base across Australia
collaborative project work and organisational advice and support with and for our Indigenous partners.
Overview of role
Country Needs People is seeking a skilled Administrative Officer to join our team. This position is ideal for an organised and experienced person to be a part of a dynamic, committed and purpose-driven team. The ideal applicant has experience in the community sector or a not-for-profit organisation.
This is a new role, which we expect to be varied and includes administrative tasks ranging from providing reception duties, organising meetings and events to creating or updating office procedures and communicating them to our team. You will also help maintain our contact lists and databases, assist the Finance Manager with some administrative bookkeeping activities, and could potentially manage our supporters CRM/ database.
Duties
The Administrative Officer will:
Provide administrative support that contributes to the smooth running of the organisation, including:
Support to the Executive Director and Operations Manager and general administrative support to the staff team, including scheduling meetings
Handling incoming phonecalls and managing correspondence in the general CNP inbox, including being the first point of contact for telephone and email inquiries
Administrative support for the Finance Manager, including processing staff and contractor expense claims and credit card charges
Drafting correspondence and compiling information for reports as needed
Management of mailouts from time to time
Organising staff and contractor travel and accommodation
Working with the campaign team to plan and manage logistics for events, including in Parliament House or interstate
Other related tasks as necessary
Support the team with maintenance & development of office systems, including:
Managing our electronic filing system
Potentially, managing our supporters CRM (NationBuilder)
Liaison with external IT service providers
Maintaining contact and mailing list databases
Monitoring and maintaining office supplies and equipment
Qualities
We are seeking a person who can contribute their considerable skills to the journey of building a sustainable, high functioning organisation that makes a difference. The ideal candidate will be:
Invigorated by CNP's purpose of protecting and preserving the natural environment through Indigenous land and sea management
Excited to work in a new role, in a young and developing organisation
A highly organised person with excellent time management skills
An energetic team player, who loves creating office systems and supporting teams to be efficient and effective
Highly sensitive to the significant working relationships of trust that CNP has developed and seeks to maintain with our Indigenous partner organisations
Someone with a positive and collaborative personality to tasks with strong interpersonal skills and a willingness to do what's required in a small team.
Aboriginal and Torres Strait Islander applicants are strongly encouraged to apply.
Selection Criteria
Essential
Excellent verbal and written communication skills and the ability to work collaboratively with a diverse range of people
Well-developed digital literacy skills, including experience with:
Microsoft Office 365 - Teams, SharePoint, OneDrive
managing contact lists and databases
video conferencing such as Zoom and Teams
Effective time management skills, with an eye for detail and demonstrated ability to manage competing priorities
Demonstrated ability to work effectively with others in a small team, taking personal responsibility for achieving work outcomes and working independently
Commitment to the values and purpose of Country Needs People and Indigenous land and sea management
Desirable
Experience in the community sector or not for profit organisations
Experience with website or supporter database content management systems, such as NationBuilder
Experience with accounting software, such as Xero
Terms
Initial contract for 2 years with the opportunity to extend.
This role will preferably be filled as a 0.6 position (3 days pw).
Terms and conditions are based on the Social, Community, Home Care and Disability Services Industry Award.
The position is classified as a Level 3 with a pro rata full time equivalent salary offered in the range of $67,266 – $72,124.
Plus statutory superannuation of 10.5%.
The role reports to the Operations Manager.
This position will be based in our office in Canberra City. Moving allowance can be negotiated.
How to apply:
Within two pages, applicants should outline the extent to which they satisfy the essential skills required and desirable attributes, using examples where relevant. In addition, applicants should include a brief cover letter and a current CV. The applicant should also be able to supply two current referees we can contact.
* The preferred file format for applications is one compiled pdf doc. We will reply to all applicants and keep them informed of the status of their application.
We will be commencing shortlisting for this role immediately. Applications will be closed once a suitable applicant has been identified so please get your application in ASAP.
Please send applications to Indra Esguerra at indra@countryneedspeople.org.au. If you wish to inquire further about the position please contact Indra on 0402 486 647.
Location:

ACT
Work Type:

Part Time
Category:

Administration/Customer Service
Biodiversity/Conservation
Indigenous Environment/Water