Vocal outrage brings arrest, no stopping at Maules Creek

Print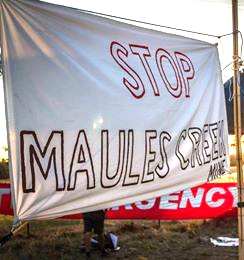 Nearly a dozen people have been arrested while protesting at a mine site in New South Wales.
At last report, ten people have been arrested at the Maules Creek Whitehaven coal mine near Tamworth, which has been the site of construction work and concurrent protests since the start of the year.
The ongoing display of people power is intended to stop "vehicles seeking to clear the forest for construction of rail infrastructure," according to community activist group Lock the Gate.
Five people were arrested in just three days of protests starting on the 14th of January, three of which were charged for hindering the operation of mining equipment.
One man has reportedly been charged with ignoring a direction under the Law Enforcement Powers and Responsibilities Act, while another man was charged for breach of bail.
In the days between January 17 and January 20, four more people were arrested, three of which were also charged with hindering the working of mining equipment. A 22-year-old was charged with obstructing traffic.
One more person was picked up by police on Thursday January 23, for an as yet unknown reason.
All will appear at Narrabri Local Court on February 25.
Work on the $767 million Maules Creek mine will create over 800 jobs and is supported by a large proportion of local residents, Whitehaven says.