Uranium spill brings a few new rules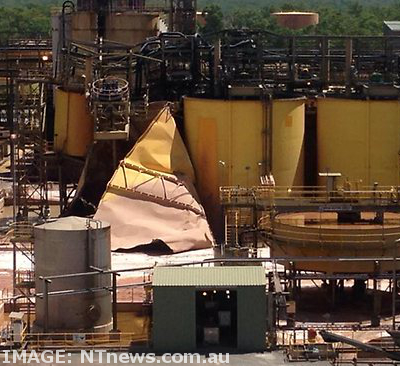 The Ranger Uranium mine has been officially ordered to improve its safety procedures, after investigations into the failure of a tank in December last year.
A ruptured leach tank released acidic radioactive slurry when it gave way in 2013, nad investigators have now issued their report on what can be done to prevent such a spill happening again.
The Department of Industry has put out a joint statement summarising its investigation into Ranger's Leach Tank 1 spill, finding that the management of process safety and its corporate governance were not up to standard.
Federal Minister for Industry Ian MacFarlane and the Northern Territory Minister for Mines and Energy say that new regulations will now be imposed through the Mining Management Act (NT).
"It is critical that ERA improve process safety practices at Ranger to ensure mining activities continue to have no impact on Kakadu National Park," MacFarlane said.
ERA has been ordered to bring in a qualified expert to monitor the 'Process Safety Improvement Action Plan' every three months for the next two years.
The authorities say this will ensure the plan is effectively implemented, including reviews of the Return to Service documentation; improvements to relevant process safety capabilities for the NT Department of Mines and Energy and the Department of Industry; and consideration of further regulations by the Department of Industry, in consultation with stakeholders.
A recommendation for a larger, more comprehensive review of the regulations around Ranger has been "noted", but both the NT and Federal government ministers refuse to take further action.
The investigation taskforce featuring staff from NT DME, NT WorkSafe, SSD, the Department of Industry, the Gundjeihmi Aboriginal Corporation (GAC), and the Northern Land Council has already been established to streamline the regulatory response to the incident.
But GAC chief executive Justin O'Brien says the group was given no warning ahead of the summary report.
"It is critical that the recommendations of this report are fully implemented with highest priority given to a comprehensive review of the regulatory framework at Ranger, a point which the ministers have acknowledged but up to this point have not committed to act on," he told the ABC.
"The tank collapse which sent over a million litres of radioactive acid spilling across the mine site was yet another example of the poor management and failed systems at Ranger.
"For Traditional Owners to gain have any confidence in the capacity of the Energy Resources of Australia (ERA) and the regulators to manage this mine the recommendations of this report must be acted on swiftly and completely.
"ERA wants to expand the Ranger mine underground. Without a comprehensive regulatory review and implementation of the remaining recommendations it would be ludicrous for the Federal Government to even consider such a proposal."