TasWater fighting fatbergs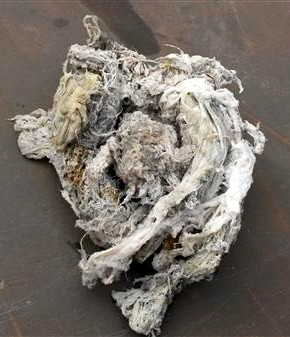 TasWater says fatbergs are draining its finances.
Fatbergs are made of accumulated wet wipes, baby wipes, toilet paper and the myriad unflushable materials people dump down their drains.
TasWater says it pulls about 500kg of fatberg out of the Launceston sewerage system each week.
Last December, it spent $1 million removing 30 tonnes of fatberg from Launceston's Ti Tree Bend sewerage processing plant.
TasWater spokesperson Royce Aldred said wet wipes do not break down.
To demonstrate this, TasWater officials filled three jars filled with normal toilet paper, wet wipes and baby wipes and observed them over 18 months.
Alarming results from these jars after 18 months. You will think twice before flushing another wipe #cantflushthishttps://t.co/mKy0X11V3s pic.twitter.com/j0Y3fOgx2R

— TasWater (@Tas_Water) June 8, 2017
"The results we've got show they don't really break down the way you think they should," Mr Aldred said.
"When you compare those to toilet paper, toilet paper breaks down into smaller pieces quite quickly in our network.
"Flushable wipes don't break down for quite a long time, if at all."
The authority has implored people to stick to the "four-P principle", flushing only "pee, poo, puke and paper".
Mr Aldred described the potential negative effects.
"It could mean that a pipe actually ruptures or a manhole pops, or the water backs up into a pump station and overflows in to a creek or onto land," he said.
"It can potentially cause us to spill sewerage where we don't want it to spill, obviously.
"We certainly spend a lot of man hours and lot resource.
"There's also if we have an issue we often rely on pump trucks resource from external contractors that have to get in and that's expensive."
"If in doubt as to what they can flush I would ask any member of the public to give us a call or go on our website.
"We're happy to give advice rather than ending up with issues in our network."
The Australian Competition and Consumer Commission (ACCC) has launched legal action against companies that claim their wet wipes break down like toilet paper.
The consumer watchdog instituted proceedings in the Federal Court last year against Kimberly-Clark Australia Pty Ltd (Kimberly-Clark) and separately against Pental Limited and Pental Products Pty Ltd (together, Pental), alleging that they each made false or misleading representations in relation to 'flushable' wipes they marketed and supplied in Australia.
"The ACCC alleges that the impression given by the representations which Kimberly-Clark and Pental each made about these products was that they were suitable to be flushed down household toilets in Australia, when this was not the case," ACCC Chairman Rod Sims said.
"These products did not, for example, disintegrate like toilet paper when flushed. Australian water authorities face significant problems when non-suitable products are flushed down the toilet as they contribute to blockages in household and municipal sewerage systems."