Taking burgers to the belly of the beast

Print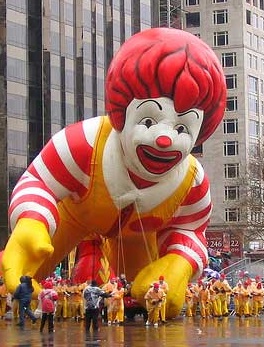 Residents of a small town in Victoria have travelled to the United States to tell global food giant McDonald's where they can stick their reconstituted 'chicken' nuggets.
Protestors from the town of Tecoma have been battling to stop the fast-food chain from setting up shop in their neighbourhood, forming a movement called Burger Off and gathering thousands of supporters.
The stoush began when the local council rejected McDonald's plans to move into Tecoma, based on over 1100 community responses in opposition. The council's call was overturned by the Victorian Civil and Administrative Tribunal, which has allowed the purveyor of fatty goods to roll ahead with construction.
McDonald's has been forced to seek an injunction after weeks of protests, sit-ins, flashmobs and demonstrations. Burger Off have now ramped-up their assault as well, flying to McDonald's homeland in Chicago to present a petition to the company's chief executive Don Thompson.
The group has played what it hopes is a finishing move in the fight against French fries, taking out a $25,000 full-page advertisement in The Chicago Tribune and setting up 30 inflatable kangaroos outside a McDonald's store in Chicago.
Garry Muratore, who flew to Chicago with his fellow Burger Off members, described the 'David and Goliath' battle.
"This is an organisation that has spied on us, that have used private investigators to take notes on us. We've had private security threaten people," he said.
"It's too close to a kindergarten, it's too close to a primary school - it'll be the closest McDonald's to a national park in the country,"
"And then to issue Supreme Court injunctions against people that were protesting with the potential of losing their house? That company's got no ethics."
Another local supporter said she would never give up the fight: "I'll stand there and I'll tell the tourists to keep driving. Tecoma said no. And we will continue to say no and we will make sure that McDonald's pays for what they've done to our community. They have to pay."