Sea Shepherd bails on whale fight

Print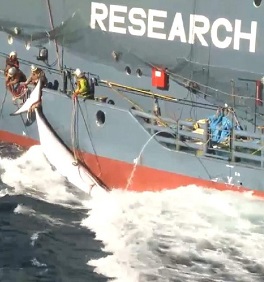 Anti-whaling group Sea Shepherd says Japan is now using military-grade technology to track its ships, finally bringing an end to its fight against the Southern Ocean whale hunt.
For over a decade, activists have confronted the whaling fleet in a bid to stop the mass slaughter of rare whales in a program the Japanese government considers "scientific".
Sea Shepherd founder Paul Watson says the Japanese ships have become too difficult to find.
"They're using military technology," he said.
"They have real-time satellite coverage. Where we are, we cannot close in on them.

"We don't have their money, we don't have their technology, but we are going to have to find an alternative way to deal with them, and we will."
Mr Watson criticised the Australian Government for bailing on a promise to help.
"Australia is supposed to go down there, send a ship to monitor what Japan is doing, at least," he said.
"Australia could actually help us by using satellites to help give us the locations, but they don't.
"They have made a lot of promises that they haven't kept, but really what it's all about is appeasing Japan, not upsetting Japan. Trade deals take priority over conservation law," he said.
Federal Environment Minister Josh Frydenberg said Australia has been helping.
"No country has done more than Australia to try to end Japan's so-called 'scientific' whaling, particularly in the Southern Ocean," he said.
"The Government has made representations at the highest level in Japan and we are working hard through the International Whaling Commission (IWC) to end any commercial or so-called 'scientific' whaling and promote whale conservation.
"Australia recently invested an additional $1.5 million to the IWC's highly successful Southern Ocean Research Partnership, to support non-lethal whale research in the Southern Ocean."