Rise of rail freeing-up routes, helping the planet

Print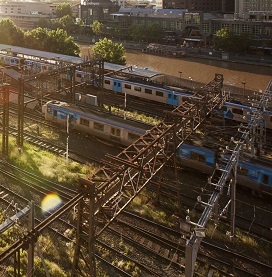 Rail is on the rise across the country, according to a report from the Australasian Railway Association.
The newest figures show passenger journeys have increased by 84 million over the past four years, while total journeys have reached 784.2 million, an increase of 15.4 million on last year.
The Australian Rail Industry Report, commissioned by the Australasian Railway Association (ARA), looked at data from 22 operators across the country to get the full scope of rail-based movements.
ARA Chief Bryan Nye said everytime someone steps on a train, they are moving towards environmental improvement.
"The average passenger train can take 525 cars off the road and reduce carbon emissions by the same amount as planting 320 hectares of trees," Nye said.
"If the growing trend that this report indicates continues, Australia will be right on track to a greener and more productive future through the utilisation of rail."
Non-human freight increased as well, with the industry hauling 929.6 million tonnes in the last 12 months, up 8.2 per cent from previous figures. Broadly speaking, ore makes up 53 per cent of freight, while coal came in at 33 per cent.
"This report justifies increased investment in rail to reduce congestion on roads and increase productivity across the economy," Nye said.
"With only 5 per cent of freight moving rail between Melbourne, Sydney and Brisbane, rail has the capacity and is ready to take more freight between the capitals and free up our congested highways."