New sources cause rude oil rate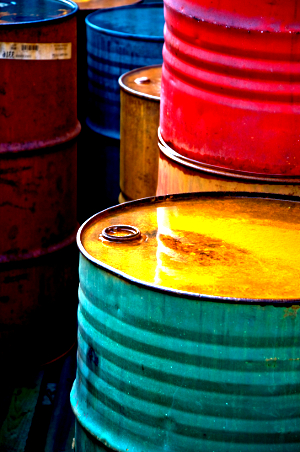 The head of a major energy company has put the five-year low for oil prices in succinct terms, saying; "It's an uncertain world."
In an interview with Fairfax Media this week, Origin Energy CEO Grant King said he little idea as to when prices for the old fossil fuel will turn around.
Origin has had to renegotiate its debt lines, while competitor Santos slashed its 2015 spending by 25 per cent as oil trickles down to $US60 a barrel.
"At some point in the future oil prices will be higher than they are today, but other than that I've got no idea when and by how much," Mr King said, exuding none of the confidence of the classic oil baron.
Origin energy has increased a loan facility from $6.6 billion to $7.4 billion to weather the storm.
At the same time Brent crude has had a spill, down from $US115 a barrel in June to just $US63 today.
Even the Organisation of Petroleum Exporting Countries' (OPEC) outlook seems dire, with its estimate for global demand at the lowest point for 11 years.
For Origin, all this has seen a 54 per cent reduction in market value, down $8 billion since September.
The flood of oil has raised questions about the purpose and profitability of big east coast LNG projects. Their prices are linked to the crude value and while several expect to fire up in the next 12 months, it does not appear that they will be feeding a particularly hungry environment.
One of the most central factors in the current oil oversupply has been the United States' "shale oil revolution".
The US no produces almost twice as many barrels a day of crude oil as it did in the mid-2000s, and about the same amount as the OPEC nations.
PricewaterhouseCoopers summarised the potential global impact of the revolution in a recent report.
"The global impact of shale oil could revolutionise the world's energy markets over the next couple of decades, resulting in significantly lower oil prices, higher global GDP, changing geopolitics and shifting business models for oil and gas companies," the report states.
Shale oil, which has only recently become a commercially viable source, does not have all the features of the traditional well.
"Typically, an oil well will run for between five and ten years at a good level of production, a well in shale formation typically you drill the well, year one – you get a 100, year two – you get something like 60, year three – you get something like 30 – it declines very-very quickly," said Alex Griffiths, Managing Director at Fitch Ratings in London, in a recent interview.
"So in order to keep production at a certain level you need to keep drilling new wells and keep investing. What that means is that if you suddenly get a price, which makes that drilling uneconomic then fairly quickly production will tail off."