Hunt sorry for swearing at mayor

Print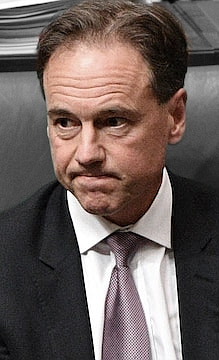 Health Minister Greg Hunt has apologised for verbally assaulting Katherine Mayor Fay Miller.
During a meeting last year, Cr Miller asked Mr Hunt about resources to deal with contamination from fire-fighting foam in her region.
She said that more funding may be needed to hire counsellors on the ground in Katherine, rather than just making them available over the phone.
Mr Hunt said she would need to take up the issue with Northern Territory senator Nigel Scullion.
"Senator Scullion comes to Katherine but I don't see him," Cr Miller says she told Mr Hunt.
"He relocated his chair, pointing towards me and said; "You need to f*cking get over it, you need to f*cking make Senator Scullion your best friend'.
"I didn't move. I was absolutely totally gobsmacked.
"And then he sat back a little in his chair and said; 'I've heard you're feisty'.
"And I thought; 'Really?' I hadn't said a word, not a word at this stage, because I was in such a state of shock at what he was saying.
"It was like turning on a switch."
Cr Miller said she wrote to Mr Hunt after the incident to ask for an explanation of his behaviour.
"I wrote to him in December and I actually got a letter in February that accused me of poor behaviour," she said.
The mayor said she wrote again on May 14, addressing the Prime Minister as well as Mr Hunt.
Mr Hunt has now made both a personal and public apology.
"I used strong language," the health minister said.
"I have apologised to the Mayor of Katherine and today I want to repeat that apology publicly and sincerely and absolutely.
"It was my fault and my responsibility and I accept that."
He also said he should have apologised earlier.
"My fault and my responsibility and I accept that responsibility and repeat that apology to the Mayor, sincerely and absolutely," he said.