Drought texts remain secret

Print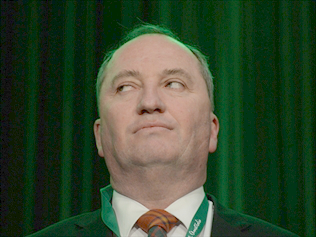 The PM's office has blocked requests for text messages that Barnaby Joyce claims constituted his work as drought envoy.
For nine months between 2018 and 2019, while Mr Joyce (now the deputy PM) was on the backbench, he was given a new role as 'drought envoy', which involved visiting and reporting on drought-affected communities.
Mr Joyce managed to accrue $675,000 in total expenses in that time, including the costs for two staff to assist him in his normal work as a backbencher.
Mr Joyce made four trips to drought-affected parts of Queensland - a day trip to Longreach, Bedourie and St George on a private charter at a cost of more than $15,000; a $5,000 chartered day trip to Charleville to watch a delivery of hay bales; an overnight trip to Gympie, costing $5,300; and an overnight trip to Rockhampton.
His role as drought envoy also saw him take two trips to Tasmania; a two-day trip in March 2019 and a three-day trip in October 2018, as well as two brief trips to regional Victoria and one to Hay in New South Wales with the local MP, Sussan Ley.
Mr Joyce was criticised for appearing not to turn in any documentation in relation to his envoy duties.
Defending himself in a 2019 online video, he claimed that he made reports to the PM's office containing "quite detailed" feedback, and read out letters he allegedly received from Prime Minister Scott Morrison in response to his work.
He also claimed that he had sent key reports and information via text message.
"If you say a report is a written segment to the prime minister … then they definitely went to him, I definitely sent them, I sent them by SMS to him and they were read," Mr Joyce told reporters in September 2019.
In April this year, the office of the Australian information commissioner ruled that a two-year-old freedom of information request for the text messages should be fulfilled, ordering the Prime Minister's office to dig up the messages.
Scott Morrison's staff argued that processing the requests would be an unreasonable diversion of resources and take too long.
The PM's senior adviser, John Harris, has this week claimed that the text messages are not the document of a minister, and refused to release them.
"Your purported request relates to documents that, if they existed, would not fall within the meaning of 'an official document of a minister' as they would not relate to the affairs of an agency or of a department of state," he said.
No further explanation has been provided.