Defence admits foam failure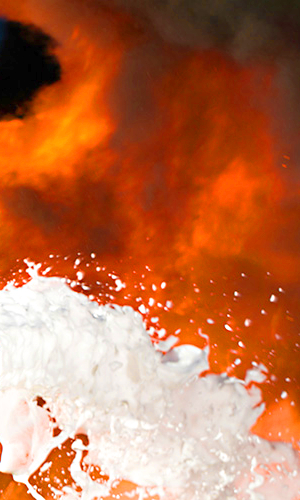 The Department of Defence says it should have warned the public about PFAS contamination earlier.
Defence has admitted it should have given warnings up to three years earlier than it did.
It has also reflected on the cost of clean up the problem caused by fire-fighting foams nationwide, which it expects to reach into the hundreds of millions of dollars.
The department is now tackling perfluorinated chemical pollution at 18 Defence bases across the country.
"There's no doubt about it, that the way we used these products in the firefighting airfields back in the 80s and 90s was not as good as it should have been," department deputy secretary Steve Grzeskowiak told the ABC this week.
Defence hid a contamination outbreak near the Royal Australian Air Force base at Williamtown in NSW for more than three years.
"I think if we had our time again, should we have told the community back in 2012, from the middle of 2012? We probably should," Mr Grzeskowiak said.
The toxic chemicals were used in an aqueous film-forming foam called Light Water manufactured by 3M.
3M phased out the foam in 2000, and reportedly warned the Australian Government at the time that the foam's key chemical ingredients "potentially pose a risk to human health".
Defence did not fully replace the 3M foam until 2012.
While experts have questioned whether it is possible to entirely remediate sites like those at Williamtown, Defence says it will at the least be very expensive.
Mr Grzeskowiak said that in the past five years, "the figure would be in excess of $100 million either currently expended or committed to be expended".
He agreed that the final bill for taxpayers would be in the hundreds of millions of dollars.
Defence says it is taking a "precautionary approach" to protecting people living near contaminated sites, supplying bottled drinking water to several communities including Katherine in the Northern Territory.
Assistant Defence Minister James McGrath said earlier this year that the Government was considering compensation options and land acquisitions, but no announcement has been made.
Professor Ian Rae - an expert on chemicals in the environment at the School of Chemistry at the University of Melbourne – has reflected on the revelations.
"In the early 2000s I had a leading role in the technical review of perfluorooctane sulfonate (PFOS) for the United Nations Environment Programme," Dr Rae said.
"We concluded that it was toxic to some species in the environment and that its use should be restricted to situations where no suitable replacement was available.
"This recommendation was adopted by the Stockholm Convention on Persistent Organic Pollutants. Another PFAS substance - perfluorooctanoic acid (PFOA) - is going through the Stockholm process right now and I expect it will be banned or restricted, too, and for the same reasons

"PFOS is the major substance of the PFAS family that has been released to the environment, mainly through its use in fire-fighting foams.
"Like so many of the substances we have banned or restricted - think DDT, for example - PFOS is especially effective in the uses it was designed for.
"But of course, like DDT, it has bad effects on environmental species, and these impacts came to light only long after the substances were introduced.

"While the evidence for environmental harm was sufficient to see PFOS dealt with under the Stockholm Convention the evidence for harm to people is not strong.
"Small quantities can be found in the blood of most of us, but nobody seems to have been exposed to high enough concentrations to enable health professionals to identify a cause-and-effect relationship.
"Even so, there is justification for a cautious approach and for ways to minimise exposure to possible contamination.

"The PFAS contamination is carried by water. Living near a defence site is not especially risky unless you are exposed to surface water or ground water that has been contaminated. PFAS foams were used at other places, too, such as the areas where fire-fighters were trained, such as the Fiskville site, to west of Melbourne.

"Treating contaminated water with activated carbon (sometimes referred to as granulated activated carbon, GRAC) removes PFAS by adsorbing it onto the carbon.
"The carbon can then be safely buried in a secure landfill, or - more likely - burned at high temperatures to destroy it and the PFAS. PFAS-contaminated soil can be heat-treated to destroy the PFAS and some facilities of this type are already operating in Australia.

"A national environmental management plan for PFAS is being developed by the EPAs of the states and territories, together with the Commonwealth, and should be completed by the end of this year."