Coalition limps to zero plan

Print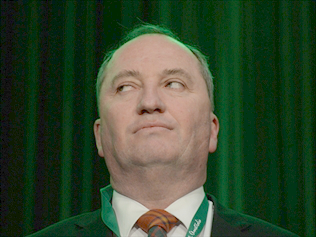 The Coalition is doing its homework on the bus to school - slapping together an emissions pledge just days before the COP26 climate summit.
The Nationals say they will provisionally support a net zero emissions target by 2050, 'in principle', giving Prime Minister Scott Morrison something to announce at the Glasgow talks.
The agreement comes just days before an announcement is due, despite the Coalition having years to work on a plan.
When the Paris Agreement was signed at the 2015 United Nations Climate Change Conference, it was agreed that the conference of 2020 would be the first iteration of a 'ratchet mechanism' - in which signatories to the Paris agreement commit to enhanced ambition every five years.
The 2020 conference was postponed to 2021 due to the COVID-19 pandemic, but dozens of countries, including Australia, are yet to update their pledges.
It now appears that Australia will announce something, but the government has provided almost no details as to what that will be.
"We are in support of a process going forward that would go towards a 2050 emissions target," says deputy PM Barnaby Joyce, leader of the junior party in the Coalition.
But the support depends on the cabinet endorsing agreements made during internal negotiations over the last few days.
The cabinet meets to formally sign off on the plan this week. The 2021 United Nations Climate Change Conference, also known as COP26 or the Glasgow Conference, starts next Sunday.
The Nationals had demanded that Australia's plan ensures regional communities are not adversely affected by measures to move on from destructive industries that some rely on.
Mr Joyce has refused to provide any details of the changes his party wants, saying only that "the position regional people are in now is vastly better than they were [in] before we started those negotiations".
The democratically-elected Nationals MPs say they are enacting the will of their communities in the closed-door discussions, leading some to question why they refuse to reveal any details.
Mr Joyce has acknowledged that some country constituents will not like what their representatives have done.
"I would say to people in regional Australia, I understand completely some of the sentiments that are held there… but I say to you as earnestly as I can, there is no way we can deal with any of those if we are outside the tent," he said.
The Nationals leader has come a long way since July, when he declared there would be zero chance of his party room agreeing to net zero.
Reports say that Mr Joyce has told his colleagues that he personally does not support a net zero plan.
The Nationals have also been silent on the costs of their demands.