Adani bird plan backed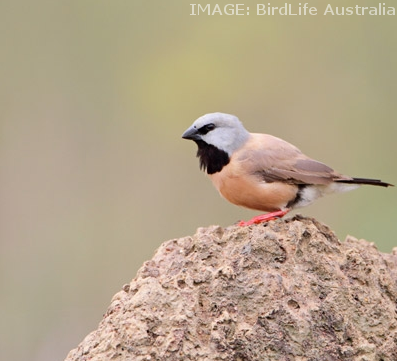 The Queensland government has approved Adani's endangered bird plan, leaving it just one step away from building its contentious coal mine.
The state environment department approved Adani's plan to safeguard the endangered black-throated finch, which lives on the planned Carmichael mine site in the Galilee basin.
The Indian company is now waiting on final state approval of its plans to manage groundwater.
The approval of the finch management plan came after Queensland Premier Annastacia Palaszczuk said she was fed up with delays and ordered the coordinator-general to sit down with the company and environment department officials to agree on approval deadlines.
A decision on Adani's groundwater management plan is due by June 13.
Dr April Reside - a Postdoctoral Research Fellow in the Centre for Biodiversity and Conservation Science at The University of Queensland – says the bird plan will not work.
"The proposed site of Adani's Carmichael Coal Mine is the site of the best remaining habitat for the Black-throated finch – an endangered species that has lost over 80 per cent of its original extent," she said.
"Adani's Black-throated Finch Management Plan received a scathing review from threatened species experts from across Australia, and from the Black-throated Finch Recovery Team. Despite this scathing assessment, the QLD Government approved it today.
"There is no scientific evidence that offsets could mitigate the loss of Black-throated Finch, particularly the best habitat that remains.
"Adani's Black-throated Finch Management Plan falls a long way short of a plan that could conserve the Black-throated Finch."
CSIRO says it did what it was asked.
CSIRO official statement on the Adani Carmichael proposal
"In late 2018 and early 2019 CSIRO and Geoscience Australia wrote two reports for the Federal Government on specific questions on groundwater monitoring, management and modelling planned by Adani Pty Ltd for its Carmichael mine proposal in central Queensland," the science body said in a statement.
"This advice was limited to answering discrete inquiries on whether elements of Adani's proposed plans would be adequate to protect nationally significant environmental assets.
"CSIRO identified inadequacies in the plans and was subsequently asked to review Adani's response to the recommendations CSIRO made to address the issues raised, as summarised by the Department of the Environment and Energy.
"Adani had committed to address the modelling limitations identified by the CSIRO and GA review in a groundwater model re-run to be undertaken within two years.
"CSIRO considered that this commitment satisfied its recommendations, while also acknowledging there were still some issues that need to be addressed in future approvals, particularly confirming the source of the ecologically-important Doongmabulla Springs."