Premier's Sustainability Awards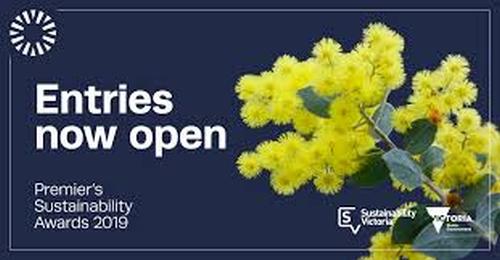 Premier's Sustainability Awards


Celebrating sustainability

The Premier's Sustainability Awards, now in its 17th year, recognise and celebrate Victorians who are leading the way to a sustainable future.
The awards continue to grow and reflect the action that is happening across industry, business and community from regional to metropolitan Victoria.
The Premier's Sustainability Awards offer 11 award categories to enter in 2019. The Awards presentation will be held Thursday 10 October 2019 in Melbourne.
Sustainability Victoria, the Victorian Government and the Premier of Victoria, Daniel Andrews are proud to have this opportunity to recognise and reward Victorians who are leading the way in sustainable innovation and practices across all sectors within Victoria.


How to enter

Entering the awards is a great chance to reflect on your project, share the achievements of your initiatives to a wider audience and be recognised as a leader in sustainability. Finalists are promoted to customers, media and local community throughout Victoria. Entering is as simple as deciding you have a project that you want to enter and submitting your entry, you don't have to be nominated.


Your Entry

In 2019 entrants are required to respond to five questions about their project that was completed in 2018 or the stage of the project you are entering was completed in 2018, When you submit the entry include documentation such as graphs or media coverage, photos or videos to support the response.
The five questions are:
What were the objectives of your initiative? (300 words maximum)
How were sustainability principles and processes embedded into your initiative? (

300 words maximum

)
What were your sustainability outcomes and results? (

300 words maximum

)
How did your initiative engage stakeholders and use partnerships to achieve sustainable outcomes? (

300 words maximum

)
How could your initiative be continued or expanded in the future?

(300 words maximum

)
Entry close date is final, there will be no extensions provided.
Your entry information will be securely saved and confidential.
The 2019 awards are now officially open and include a new category, Environmental Volunteering. Get the team together and start working on your entry now! Entries close 5pm Thursday 13 June.

To see past winners and enter the 2019 awards - please click here.